Save the date for this RFB special event!
On Wednesday, November 17, at 8pm, come join RFB on a musical journey into the heart of Cuba's Changüí country with Gianluca Tramontana, music journalist and host of RFB's Sitting with Gianluca. Tramontana spent two years (2017–2019) in the mountains around Guantánamo City, Cuba, immersed in—and recording—a joyous, all-inclusive, and mostly improvised, riff-based acoustic roots music.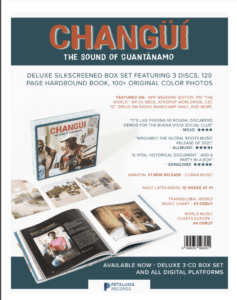 The event, at Pine Box Rock Shop, will be part record release party, part panel discussion, part slideshow—and lots of amazing music. Hosted by Tramontana, the discussion and slide show will include a conversation with four-time Grammy-winning producer, archivist, and co-producer of Changüí – The Sound of Guantánamo, Steve Rosenthal and Ned Sublette, Cuban music expert and author of the definitive tome Cuba and its Music. Moderated by producer of WFUV's (90.7FM) Whole Wide World, Delphine Blue, the event will also be a "better late than never" album release party where a copy of the box (and some other special gifts) will be raffled off to a lucky audience member.
Travel with us into a style of music and its people—a vibrant way of life with wall-to-wall music guaranteed to get your hands-a-clapping and toes-a-tapping.
Pine Box Rock Shop, 12 Grattan Street, Brooklyn. 8-9:30pm. This event is FREE. RSVP at: https://www.tickettailor.com/events/radiofreebrooklyn/604213