RFB: Welcome Ben, and congrats on No Thing Considered! Dada, Surrealism and Jazz (to mention a few genres we now consider as timeless art) all shimmied into our consciousness over a century ago. How do you feel what is considered to be "avant-garde" (in any artistic genre) has changed over the past century, and how/what/where do you see it evolving post-Covid and through the 21st?
BL: I'd say the notion that for an artwork to be cutting-edge or radical it has to be brand new (i.e., as unique as a cut diamond) should be tossed out the window. Because the cut of a diamond really only distinguishes it from other diamonds cut from a machine, and in this mechanization of roiling identities they possess more self-similarities to each other than they might if they were indistinguishable by the eye of the diamond auditor. To really be on the forefront of change requires art to have a social relationship and function, and I feel that this necessarily ties it to history (i.e., tradition).
While I tend to collect European jazz and European labels of American jazz expats, I'd say that jazz is the most varied of all American art forms with a great breadth of experience and joyful resolve over pain and calamity. But also that it has had so many radical departures from its established forms to new areas and geographies over time. And its resilience is breathtaking: surviving not only being smothered in the cradle in old Jim Crow segregation, but also cataclysmic economic shifts that occurred in consumption after the desegregation of music dissemination. This was ingrained in the New Orleans culture that I imbibed on, and one form of this was, and is jazz. At 15, I saw Johnny Vidacovich play at Snug Harbor. At the time I played snare drum and was instantly enchanted by the call and response of he and the other musicians on stage (in pitch, tone, phrases, pauses, silent cues of the face, words, eye contact). I remember beating on the table attempting to mirror him, and the moment I could observe in the middle of a glass ashtray flame that he was mirroring back to me what next I might play on the ashtrays, I became dizzy with the feeling of shared experience that is only available to an observer of a performance.
I believe that jazz can show (perhaps most astutely from the perspective of careful observer) that the nature of performance is ultimately imitative and that the boundary between improvisation and composition is dissolvable. This is a highfalutin' way of saying that I imitate improvisation in both my poems and radio compositions. The permeability and uncertainty of performance is a very old notion but I think that it still has the potential to radicalize musical forms. And you can see it in other musical forms, in more rudimentary but still radical ways (e.g., highbrow classical music, DJ dance music, etc.).
I have spent most of my life as a poet, have became ensconced in its role of culture-maker, but have also irrevocably lost to it and ashamed of it that I couldn't see its social material immediacy: bodies separated by at most millimeters, the dissolution of time, etc. And so, the most radical or avant-garde departure for me has been to see art as utilitarian and to see in it social responsibility to others. And what is most important in my utilitarian idea of art is the radical, yet very old gesture that culture has no origin; it is always borrowed because it cannot be possessed like property, and because of its permeable nature it is resistant to inculcation and entropy. If a historian were to write a description of authorship over time, intellectual property would not be the most salient concept to use as an organizing principle. I would go further and say that the stricture on "cultural appropriation" is ultimately a form of reification. I believe that appropriation/sampling has social utility for this very reason; it's one path out of the madness of consumerism that an artist can take to have freedom. At least that's my ideology today. I don't know about tomorrow! Or, yesterday, for that matter.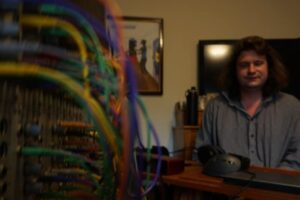 I really could never have possibly arrived to a utilitarian attitude and ethos without radio. Because this attitude is very much essential to what radio should be but also what it was founded on, as far as I can tell reading through US broadcast periodicals from the golden age. And quite strangely to me this has turned me back to writing poetry itself. Community is absolutely essential. If I were to consider publishing a book, I'm not considering my intentions in the book but for the book. I would have to ask myself, what is my community? What can this contribute to the community? Can the influence it affords be used to leverage the community? If I can't affirm that it has value to my community, then it's going in the trash. And it's that simple.
I hope this attitude informs the work I make for Radio Free Brooklyn, and for the page. The fact that RFB is an actual freeform radio station that does not take dictation from the FCC or the structure of consumption that has become commercial radio and commercial streaming, is what sets it apart from other community-standard stations. It's why I chose it and why I'm going to stick with it.  If I am an avant, I have to provide for a future audience. And I think that as artists, we ought to be exploiting breaks in the consumption economy by building toward community on some level—whether that's a business, a forum, activism, work itself, etc. It's why I've gone all-in with my radio show, and why I'd like to use it as a platform for artists and collaborators across geography.
RFB: What is the takeaway message of No Thing Considered and what do you envision for your show?
BL: While my shows, much like Negativland, often present a postmodern image of the world through appropriation, I'm making a particular ethical argument, with a conclusion; if it is unintelligible, I hope the listener arrives at an imperative for inclusivity and community. My biggest dream is to produce a cross-cultural collage radio play with poets I admire.
Tune in to No Thing Considered Sundays at 1:00 am.