Third in our series honoring musicians who left us in 2020, RFB show host DJ Defiance writes about the seminal Jamaican star, singer, mother and painter, who died from a stroke in May 2020 at age 73. Story by DJ Defiance.
Millicent Dolly May Small, who passed away from a stroke on May 5, 2020, is widely considered to be one of the Caribbean's first recording stars to become internationally popular. Her successes in the 1960s paved the way for other Jamaican music, especially ska, (though many would classify her biggest hit "My Boy Lollipop," as bluebeat). Millie Small was born in Clarendon, Jamaica, on October 6, 1946. In 1958, at the age of 12, she won the 30-shilling second prize at the Vere Johns Opportunity Hour competition and went on to release a few singles, one of which, a duet with Roy Panton, "We'll Meet," under the name "Roy and Millie," in 1962, caught the attention of Island Records founder Chris Blackwell, who was living in Jamaica at the time. He became her legal guardian and manager, and in 1963, brought the 17-year-old Small to London to become a recording artist.
Small's seminal 1964 hit, "My Boy Lollipop," was actually written in the mid-1950s by Robert Spencer of the doo-wop group The Cadillacs. The song was first recorded in 1956 by Barbie Gaye and garnered little attention, but Small's version would go on to sell over 6,000,000 records worldwide, becoming Island Records' first major hit, and taking Small around the world. Upon her arrival in New York City at the height of the 1964 World's Fair, she received an almost Beatles-level welcome, and the day was declared "Millie Small Day." She performed for a crowd of delighted fans with one even giving her what the press later described as "the world's largest lollipop."
"My Boy Lollipop" reached No. 2 on both the American and British charts at a time when artists such as the Beach Boys and the Searchers ruled the airwaves. But the fame Small achieved with "My Boy Lollipop," was short-lived. She would go on to record three more albums, none of which would have significant commercial success on an international level. Her last major single was "Enoch Power," a protest song about the mistreatment of African and Caribbean immigrants in Britain, and in 1970, after releasing the album Time Will Tell, she retired, telling an interviewer that "it was the end of the dream and it felt like the right time." She then stopped recording and gave virtually no interviews for over a decade until a TV interview with the UK's Thames News in 1987.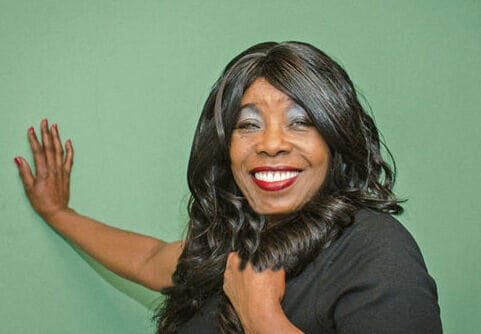 Yet even as Small faded from the cultural zeitgeist, her music continued to be a powerful influence. Her ska-inspired backbeats brought Jamaican music into the homes of millions, opening doors for future ska artists, reggae and dub musicians, and more. Many recent popular musicians, including the late Amy Winehouse, cited Small as an influence on their work. In 2011, she was honored with the Order of Distinction in the rank of Commander by the Jamaican government in recognition of her contribution to the development of the Jamaican music industry.
I discovered Millie Small entirely by accident, while doing research for a previous radio show on my college station. I admit that at the time, I did not look into her background or her life—I just liked her music and wanted other people to hear her voice. But as I read the voluminous obituaries written about her in the months following her tragic demise, I am reminded again of how ephemeral the music industry can be and of how many so-called "one-hit wonders" actually do stand up to the test of time. If you look up Small's performances on YouTube, you will see why she is regarded so highly by so many. Start with "My Boy Lollipop," then go on to "Enoch Power," "Going to the Circus," "Sweet William," "Oh Henry," or any of her other songs. Yet, despite Small's incredible success, she struggled throughout her life. At one point, she was penniless, and living in a youth hostel with her toddler, and she maintained that she never received royalties for "My Boy Lollipop."
Millie Small chose to step back from music to focus on raising her daughter and painting. As stated earlier, she felt it was the right time and stood by her choice. But I wish I could hear more of Small's own words. Chris Blackwell described her as, "Such a sweet person, really a sweet person. Very funny [with a] great sense of humour. She was really special." I think Small chose to live her life on her own terms, and for an industry known to chew people up and spit them out, perhaps her greatest accomplishment was dictating the direction of her own life.
Cover image: Getty Images.