by Sara Bass
edited by Michele Carlo
Cover photo: Steve Greenberg (https://www.greenberg-art.com)
The stark rift in the national legislature today is seeping deeper into municipal (local) politics as our democracy's integrity seems increasingly fragile. With compromise between Republicans and Democrats less plausible than ever, the conversations driving the drawings of district maps at the state level are losing synchronicity with the maps used by community members who reside in these districts themselves.
In most state legislatures across the U.S., Republicans compromise the majority. Considering the high likelihood of the advantaged party to vie for as many seats as possible, Republicans could comfortably gain 12 seats after the 2022 midterms. New York, with up to five seats within Democratic reach, is the most auspicious gerrymandering weapon. Though New York's Independent Redistricting Commission was created in 2014 to come up with a single set of bipartisan maps, urgency at the national level impedes the willingness to compromise over party lines in favor of fair representation for citizens.
The misalignment of priorities shows itself blatantly in the two sets of maps the commission released, one from each party, in mid-September 2021. Notably, the Republican-backed "Names" map prioritizes preserving rural red seats in western New York and Republican-represented Staten Island, while pitting Democrats against each other (or risking loss of their seats) in certain districts with strategic lines across Manhattan and Brooklyn. The Democrat-backed "Letters" map puts Republican incumbents at risk in central and western New York while grouping much of Coney Island with Staten Island to increase competitiveness in a largely Republican district. "It's almost a joke," said Grant Reeher, Director of the Campbell Public Affairs Institute at Syracuse University. "What they've done is what the Legislature would do, only by proxy."
While the disputes filter down from a split Washington with burgeoning desperation for the power of fielding legislation through the rest of Biden's incumbency and steering the 2024 election, there is a different kind of urgency persistent among constituents that risks neglect. There are many more incentives at play in the squabble over redistricting. Though some are important, most muffle public opinion, like drawing maps that reflect a balance of political interests across districts; honoring the legal requirements of the Voting Rights Act that mandates the comparable size of districts with majority African American, Latino, and Asian populations; or maintaining an incumbent's base of support by padding districts with portions of immigrant communities unlikely to vote in the primaries, while still meeting population demands. The strategy resulting from this entanglement of motivations looks far different in the Legislature than it does at the grassroots level, where teams of volunteers from numerous ethnic groups, non-governmental organizations, community boards, and neighborhoods initiated direct and inclusive outreach to ensure the finalized maps of their community would result in representation best suited to address their neighbors' concerns.
In hopes of merging the two maps by the January 15 deadline, the Commission hosted public hearings around the state where individuals had the opportunity to critique the proposed maps or suggest their own. In response to the miniscule effort to engage constituents in the process past an invitation for three-minute testimonies, the grassroots anti-corruption campaign RepresentUs marketed its own gerrymandering jigsaw puzzle, issued a public request to canvas, and became both "illustrators" and "yogis" of democracy with social media campaigns. APAVoice, one of their partners and a collaboration of 17 Asian American organizations across the city—hastened to hold press conferences, publish a community survey, host a redistricting art contest for teens, meet with elected officials, and conduct car tours through Queens and Brooklyn to acquaint their community members with how the makeup broadly has changed throughout the boroughs and in response to the 29% (Queens), 43% (Brooklyn), and 24% (Manhattan) increase in the Asian American population since the last census. 
Elizabeth OuYang, Director of the APAVoice Redistricting Task Force, invests in this work to garner clout for the 16 APAVoice-identified communities of interest that continue to grow. Speaking during public testimony in New York County, she expressed concern over the Commission's initial maps that both divide Manhattan's Chinatown: "Already resisting displacement daily, how can this endangered community fight back against a fourth jail in its neighborhood — the spike in hate crimes in broad daylight and fierce gentrification on all sides — if they are further divided?" She encourages adoption of the Unity Map, a synthesis of Black, Latino, and Asian American interests drawn as topography, that has received widespread endorsement.  
OuYang believes better representation for the Asian American community will pave the way for better funding for ESL classes, more Covid-19 vaccine sites in the majority Asian neighborhoods, relief for overcrowded schools, affordable housing options, employment opportunities, more assimilation efforts, and better food security. During the public hearings in Queens, Flushing resident Kyung Yun introduced herself as an immigrant who moved to New York in 1982 and spoke about some of the issues OuYang mentioned: "Rents are very high and it makes it difficult for seniors living with little income. I want my community to stay together during the redistricting process because there is still so much work needed to be done on issues like immigration and housing that still affects us."
The Central Queens Redistricting Coalition (CQRC) tackled the maps differently, being borough-based rather than ethnic-based. The group consists of a few census workers, individuals from civic organizations advancing voter registration, members of community leadership boards or green teams, others with backgrounds as field workers for political campaigns, and past candidates themselves. Heather Dimitriadis and Raj Korpan, co-chairs of the committee, explained the group's intention of keeping communities representatively whole for their primary goal of promoting civic engagement. With a team of people embedded in a range of affairs across the borough, they held a hyper-local perspective when assessing equitable district lines. The committee split in to subgroups that mapped their own neighborhood's boundaries as they interpreted them based on maintaining the cohesion of school districts, populations of shared experiences, and community boards; and then the maps were brought together and developed further. A few "super volunteers" made sure to account for minorities by knocking on doors to ask how they hoped to be governed going forward.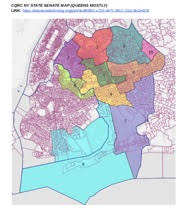 Central Queens Redistricting Coalition Map Proposals: both images courtesy of the Central Queens Redistricting Coalition.
Dimitriadis wishes they could have built a coalition across the entire borough; but with the transition in Governor from Andrew Cuomo to Kathy Hochul, steep unemployment rates, classroom uncertainty, economic fragility, the ongoing Covid-19 pandemic, and more, she says it would have been extremely challenging to expect a team of volunteers already crunched for time and resources do much more to involve the community, especially when the process is obtuse and confusing from the beginning.
Despite the limited bandwidth, CQRC also advocated alongside New York State Assembly members for better language access, a cause APAVoice and many other grassroots committees also addressed. The Independent Redistricting Commission offers translation services during public hearings; but OuYang said she did not see any outreach to non-native English speakers otherwise. "Language access is not just what is done during the hearing, but before," she says. Her group took it upon themselves to translate material into Chinese, Korean, Punjabi, and Bengali.
In response to the Assembly members' request and two more letters written by the CQRC, the only change they saw was the addition of a field on the website's participation forms to note a need for accommodation. The entire website, though, is exclusively in English. "The Coalition is doing this on their own time, so to put the burden of translation on volunteers is unacceptable," said Dimitriadis.
A couple of the guiding strategies in each grassroots organization's efforts are community engagement and collaboration. South Queens Women's March (SQWM) co-hosted the first town hall in Richmond Hill and South Ozone Park that gathered public input from the 70 community members in attendance to inform testimonies presented at public hearings. The League of Women Voters of New York has many educational resources online, has conducted webinars explaining redistricting, and published guidelines for drafting effective testimony. In addition to hosting virtual meetings to provide education and gather public opinion, the Crown Heights North Association shared redistricting information with Crown Heights North Multi-Block & Tenant Association, Friends of 920 Park Place, and Friends of Brower Park. The Center for Law and Social Justice—one of the Unity Map Coalition members—led six-week programs to educate on what it means to be a community of interest, hosted presentations, programs, and office hours in each borough, and encouraged feedback on their drafts of each map. 
In an email, John Adams High School teacher and member of SQWM Amanda Deebrah said, "…as for my parents and a few residents I speak to, they're not as involved and were therefore not aware that testifying was an option." Deborah Young, President of Crown Heights North Association and second Vice Chair of Community Board 8 echoed this statement in an email: "…many had no knowledge about the impact redistricting had and would have on them. Those of us who were actively involved happen to be very civic minded to begin with … I think what could have helped was more widespread literature dispersed to communities explaining redistricting, its impact, and the importance of why, how, and where to get involved."
Notably, the Commission did not make their negotiations public, something OuYang requested in a letter on behalf of APAVoice (but heard nothing in response). By neglecting to deliver an inclusive process that invites public participation at every stage, the Commission is not meeting its commitment against the "denial or abridgement of racial or language minority voting rights." As much as drawing district lines through cohesive communities or around populations with unique concerns jeopardizes each community's clout, an exclusionary process does nearly the same by requiring individuals compete for their interests to be regarded in the final maps.
During the Unity Coalition's November press event, CLSJ's Lurie Daniel Favors said it is important "to move beyond those divisions that have typically been used to divide us. We live next to each other, we go to some of the same stores, we shop in the same places, our kids attend the same schools, we have a vested interest in ensuring that all of us have our needs met." During the same event, in reference to the set of Unity maps, LatinoJustice's Fulvia Vargas-de León said, "This was a collaborative effort that recognized that all of our communities are disenfranchised and if we disempower one, we disempower all." Each speaker emphasized the collaborative element behind the maps and pooling of interests necessary to bridge historical divides between populations to produce something that proves it is possible to conduct redistricting "…in a manner which is equitable and fair and does not dilute or diminish the vote of Latino, Black, or Asian voters in New York," said Vargas-de León.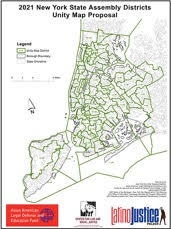 Unity Map Coalition Proposals: both images courtesy of the Center for Law and Social Justice website.
Many testimonies express a feeling of under-representation, and unlike the Legislature's concerns over Congressional control or the facilitation of the 2024 election, constituents' needs are real and present. Amanda Deebrah told the Commission that her "students' parents aren't able to vote for elected officials that directly affect their children's educational experiences" because the blocks surrounding her school belong to various districts. Fresh Creek Civic Association President Maria Garrett lamented, "…during Sandy, we had to search for our representatives in order to get the allocated funds and the resources."
Deborah Young acknowledged how community members and organizations often need to contact two assembly members before one issue is resolved. Speaking on behalf of Crown Heights, she said, "…we should be an Assembly district that understands and faces common community challenges such as lack of affordable housing, third party transfer programs, and home ownership for people of color, to name a few." Leon Goldenberg of the Flatbush Jewish Community Council spoke about the Orthodox community braving hate crimes and high poverty rates largely unseen and needing government assistance. He pointed out that "…there is not one federal office in Borough Park or Flatbush or Marine Park, in one Orthodox neighborhood" to meet this need. That's five Congressional districts without one office: Borough Park, Flatbush, Marine Park, Crown Heights, [and] Williamsburg [all] do not have an office." Waterside Plaza resident Steven Smollens' written testimony depicts the sentiment at the heart of constituents' requests and the misaligning incentives at the government and community levels: "It is not simply the representative we have a chance to elect, it is the notion of neighbor and neighborhood too that is worth preserving."
OuYang is regretful about the state's spending on a process that did not nearly fulfill what it was formed to do. She calls it a shame that so much was invested in continued partisanship at a time when the state is already ailing economically. That disappointment persisted following the Independent Redistricting Commission's concession on January 3 to send two uncompromising maps to the Legislature. Dimitriadis, too, was hopeful Commissioners might have incorporated into finalized versions the strenuous engagement work they left grassroots coalitions to shoulder; but with lost hope in the Commission, grassroots coalitions turn their advocacy to Governor Hochul and the State Legislature. On January 10, the Senate rejected the maps. The Commission now has until the end of February to draft a new plan.