Though Radio Free Brooklyn loves radio, our Board Member and photographer Phil Buehler used his amazing visual and artistic talent to raise awareness about misinformation in our electoral process.
Wall of Liars and Deniers is a follow-up to RFB's 2020 project Wall of Lies, a groundbreaking mural that made news around the world. That wall displayed the more than 20,000 lies that Trump told while in office. It was visited by then-Senate Minority Leader Chuck Schumer, defaced with graffiti, and soon replaced through a crowd-funded campaign that doubled its size.
The newest public art installation in Bushwick, Brooklyn is a 50-foot long and 10-foot-tall outdoor mural created Buehler and inspired by board member and RFB host Orie Givens, a former journalist.
"The first Wall of Lies was shocking in its magnitude, and the Wall of Liars and Deniers installation is equally as shocking in the depiction of how the misinformation has spread to influence candidates in local, state and federal election races nationwide," says Givens. "We have seen just how detrimental and dangerous the false rhetoric, lies and misinformation are, and we deserve elected officials who protect and uphold the actual facts instead of the alternative ones. Calling attention to the growth of this misinformation campaign is a vital part of our mission."
The project highlights independently fact-checked, verified-false statements from the 300 midterm candidates for office, ex-Trump administration officials, right-wing media and assorted others trying to overturn the election results, spreading the "Big Lie" of election fraud and even helping to promote the January 6th riots at the Capitol.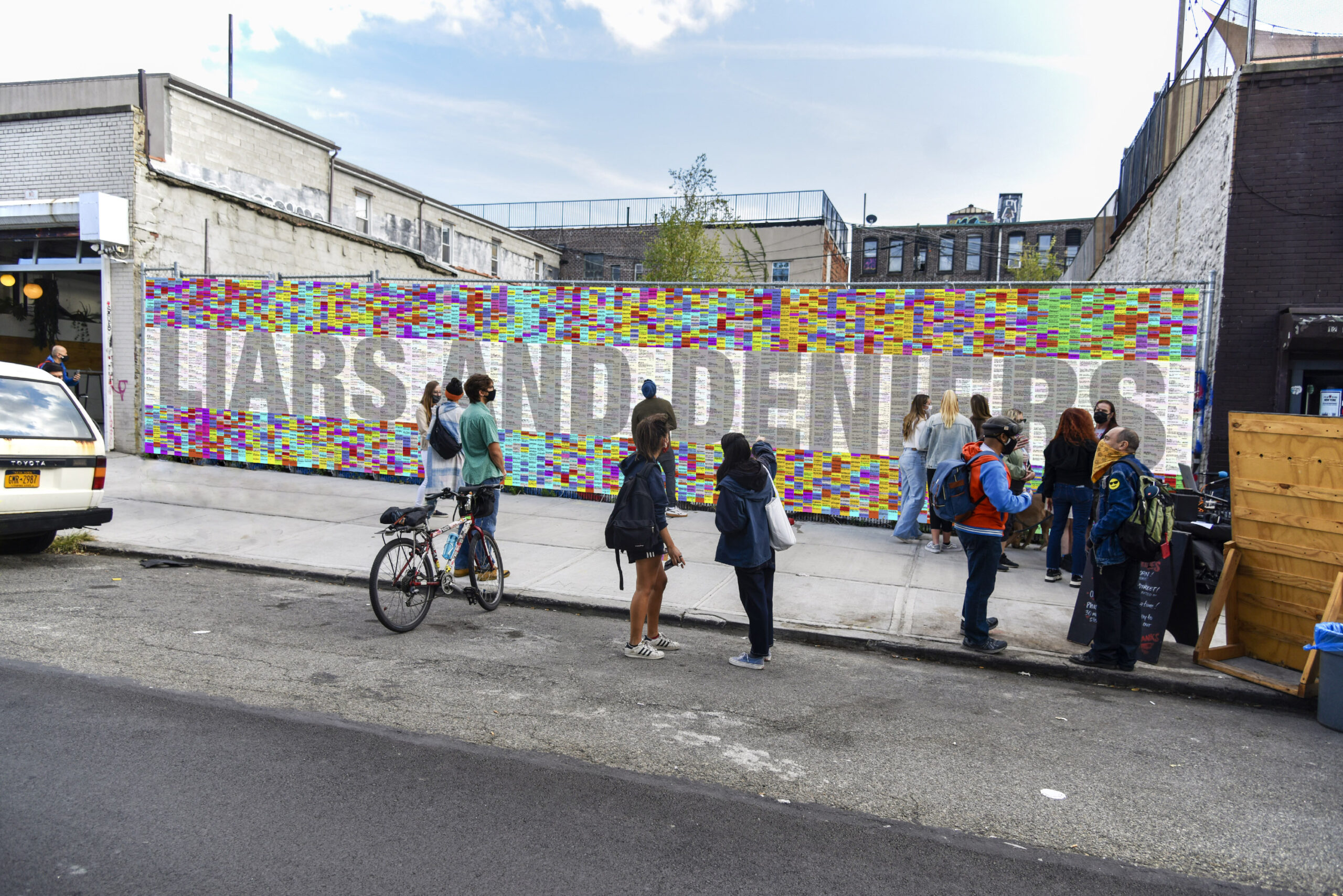 "The Wall of Liars and Deniers brings to mind another wall, Trump's border wall, except this one he and his enablers are building to keep out the truth about how America does have free and fair elections," said Phil Buehler, who installed this second iteration of the Wall of Lies in early November.
Here is a sample of the multitude of lies captured on the Wall of Liars and Deniers:
"Ok, there was definitely fraud," Mehmet Oz, US Senate candidate, PA
"Everyone knows the election was stolen," Kari Lake, US Senate candidate, AZ
"If we had a free and fair election, Trump would be sitting in the oval office," Blake Masters, US Senate candidate, AZ
"There's no question they rigged the election," Adam Laxalt, US Senate candidate, NV
"Get to the bottom of who stole this election!" Hershell walker, US Senate candidate, GA
"Was there fraud? Absolutely," Jody Hice, GA
"Joe Biden did not win. Everyone knows it. @realDonaldTrump won!" Marjorie Taylor Green, GA
"We're going to the Capitol, and we're going to fight for Trump," Tina Forte, Incumbent candidate, NY
"There's no doubt this was stolen. No doubt whatsoever." Sean Hannity, Fox News host
"Democrats were trying to destroy the integrity of our election process." Laura Ingraham, Fox News host
"We're basically having our votes counted by Venezuelans who are close to Maduro." Rudy Guiliani, former Mayor
"Biden and the Left is attempting the greatest Heist of our History." Ginni Thomas, wife of a Supreme Court Justice
"Millions of votes were stolen by dominion machines! The biggest crime ever!!" Mike "MyPillow" Lindell
Also on the wall are candidates in state elections that would be able to influence future election outcomes.
And, of course, their "Liar-in-Chief", former President Donald Trump, who continues to stoke his base with misinformation on the campaign trail.
The wall is on display from November 4 – November 8, Election Day at 12 Grattan Street, Bushwick, between Pine Box Rock Shop and Sey Coffee. We encourage local folks to visit, take pictures and tag @RadiofreeBK with the hashtag #LiarsAndDeniersRFB!
Radio Free Brooklyn is a 501(c)3 nonprofit community organization whose mission is to empower Brooklyn's underserved local communities by providing active learning in media practices and amplifying voices through a global Internet radio platform. They are a non-commercial community freeform Internet radio station, streaming original content by the artists and residents of Brooklyn 24 hours a day, 7 days a week. Donations help us to keep our platform on the air and support amazing works of art like The Wall of Liars and Deniers. Please consider a donation to support our community.