RFB: Hello Cat, and welcome to Radio Free Brooklyn! What were the creative (or other) path(s) that led to you doing your show with us?
CC: I grew up in rural Oklahoma listening to a lot of country music. But when my rebellious teen years came around, I delved into punk rock, underground, various obscurities and the like. I remember precisely when that changed: in the early 2000s I heard a Waylon Jennings song on the Louisville, KY public radio station while my brother was in the room. We were both pleasantly surprised … and then another came on. By the third, we knew he had just passed. I think that moment kicked me in the ass to get back to the music that had meant so much when I was a kid … and dreamed of becoming a country DJ.
As I'm also a musician, there have been many times I've been broke and had to sell my vinyl. Only the country records were never worth very much, so I held onto them. But whenever I went crate digging, I'd always find great country music that was a lot cheaper than the punk or psychedelic obscurities I was looking for. As I kept accumulating more and more, I got the idea to DJ my collection live. About the same time, an offer came for me from WXOX, a Louisville-based, low-power FM station. I'd done a radio show with them before (2016-2018: Cat Casual's Hotel Boheme), so I asked if I could do a country show, and somehow they let me.
RFB: Why did you choose RFB?
CC: I became aware of RFB as I was preparing to leave New York after five years and move back to Louisville. I've been a listener for a while now. Being that I am not interested in conventional country radio or any conventional radio, for that matter, it became another dream to bring a classic country program to RFB — and here I am. I am very happy to be aboard!
RFB: Country music has traditionally not been as popular in the Northeast (a.k.a. New York) as it is in the rest of the U.S., but that's been changing. To what do you attribute the genre's increased popularity / visibility, and how / where do you see it evolving in the next few years?
CC: Country music is enjoying a bit of a moment now between the Ken Burns documentary (Country Music), Tyler Coe's excellent podcast (Cocaine & Rhinestones), and Mike Judge's Tales from the Tour Bus. But even as I type that, I feel like I found myself talking about it a lot with younger New York folks when I was living there so I think it's been headed to the "hip" conversational spheres for a while now. Some of my favorite artists and songwriters have always given a respectful nod toward country music so it was never uncool for me.
As for its evolution, every day I learn about current artists doing amazing music that fits our times and gratifies the nostalgic itch with their sounds and styles. It's a pretty good time for quality country music — but you wouldn't know it by listening to corporate radio. It's also been awesome to hear from listeners in Ireland, France, England — and many in Africa — all big fans of classic country music and with their own scenes of artists in their own respective countries, being inspired and moved by these sounds and these songs.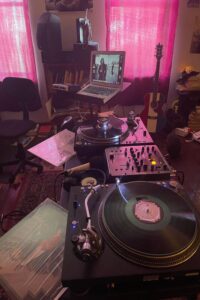 RFB: The COVID-19 pandemic continues, but that hasn't stopped you from debuting a show! Tell us about the challenges and rewards of your process so far — and maybe a little about your in-home studio setup as well.
CC: The lockdown has surely caused me to dive deeper. My apartment is a mess of records with little-to-no organization, so my format is pretty eclectic and can veer all over the place. But usually, a song reminds me of another song, a songwriter, a story, etc., and that sends me off searching for the next album. (I probably need an assistant.)
My setup is pretty simple: two turntables and a microphone into a mixer, and all of that into my laptop. That's it right now. I have a tube preamp that sometimes run it all through to warm up the sound some, but after a few broadcasts there was no noticeable difference to a casual listener — only the occasional snob noticed. God love it all but, in the end, it's really all about those songs.
RFB: Give us a hint about what to expect from each show and the takeaway you hope people get from Okie Corral?
CC: I hope to give lovers of country music what they want as well as make non-fans come around to this fascinating genre of music. Country speaks to us with its simple and direct poetry, its awareness of our goodness and our badness, its sense of humor — and the extraordinary talents who have sang, played and written within and around the genre.
Tune in to Cat Casual's Okie Corral Saturdays at 11:00 pm.
Lead photo: Cat Casual at The Merryweather in Louisville, KY. Photo: Mickie Winters.