By Sara Bass
Edited by Michele Carlo
Essential to a busker is the surprise of coming upon one. But when Theo Eastwind's 13th BuskerBall brought an audience to an assemblage of buskers at Bushwick's Unit J, he asked us to consider that a busker's daily defense of the First Amendment is fundamental to being a busker.
One evening in late April, I descended the stairs at the Wilson Avenue L train station to a Brooklyn street where a youth soccer game and Mexican food truck flanked friendly looking, modest residential homes. Along Evergreen Cemetery on the other side of the street were industrial, squat brick buildings marked by graffiti; untended patches of weeds; and the shadow of a cold, gray building careening over potholes, cracks, and stained pavement. It all belied the life pulsating inside one of those buildings, where lives Unit J. An understated plastic sign outside ushers in only those seeking the BuskerBall through a doorway and down a fluorescent-lit hallway that leads to a treasure: the festival that boasts "the world's best street musicians." And any skepticism picked up while walking down Moffat Street goes out the window.
Everything in the artist collective Unit J seems to invite guests to stay a while, even spaces seemingly unfit for lingering, like the sandalwood-scented bathroom that celebrates decades of New York with walls of information that encourage one to extend the average length of time spent in a bathroom. Or the base of the narrow spiral stairway where Aaron — a Washington Square Park busker with a Bob Dylan affinity — acts as a bouncer, loosely regulating access to the balcony VIP section, and is just as quick to strike up a lively conversation. A stage abuts the back wall, and blue and red lights sprawl across it all.
Affability was evident in each person working the event, from Aaron to the "official" security person (whose gregariousness makes you forget he's "on duty") to Theo Eastwind — BuskerBall's founder and creative director — who somehow produced a show while getting to know each guest simultaneously. On other occasions, Unit J hosts folk or rock shows and has served as a backdrop to episodes of Law & Order and Bollywood. But on April 23, it welcomed back the BuskerBall festival for the third time since 2015. (The first ever Ball was held in 2013 and occurred multiple times in 2013, 2014, and 2015.)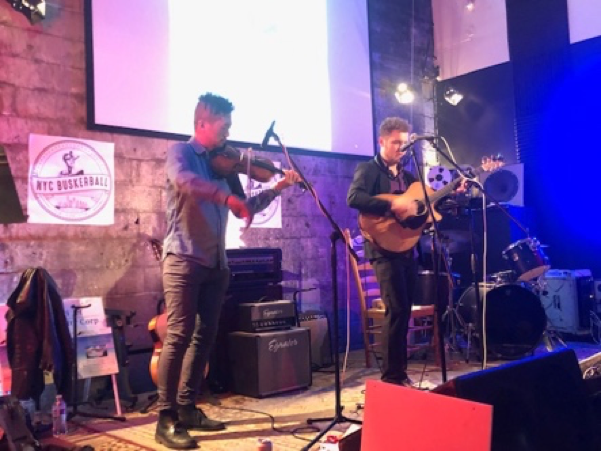 Eli Bridges (above, right), another of the event's organizers and its host — kicked off the night with a 45-minute set of folksy guitar and harmonica accompanied by violin. He then handed the stage to Pinc Louds — a band on that night represented solely by its lead singer Claudi, who was widely introduced as "born from a bird's reflection in a gutter [that] made its way into three-dimensionality by feeding on insects and candy wrappers." Any literal description of this off-kilter sound and full-bodied performance would underwhelm their music; so for your own sugary taste of this odd bird's band, stop by their East Village stomping grounds where they're often jamming in Tompkins Square Park.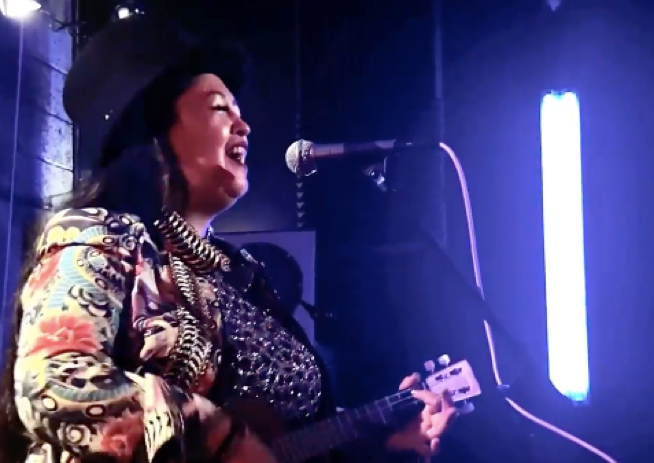 Rachel Haymer (above), the Hawaiian ukulele player of Ukulele Time Machine, next played a set that led the audience through her journey to New York. She often performs covers of Joni Mitchell, Bob Marley or Carole King, and produces her own songs influenced by these older musicians' styles. With Haymer, the freedom embodied by Bridges and Claudi becomes a theme. "I gave myself permission to be the 'me-est me' I could be, she said. "The only way I could get through my performance was to commit to the set list I had wrinkling in my pocket and go the deepest I could go."
This is the freedom of expression Eastwind has been advocating for since he began busking in 1995. In 2013, he told the Brooklyn Paper, "Buskers are on the front lines of the First Amendment," and today, he holds the same sentiment. "There are always restrictions put up, whether it's the ban on amplifiers or the misinterpreted vending rights police frequently hold against buskers to prohibit their sales of CDs. We challenge the powers that be. It's historically always been this way," he wrote in an email.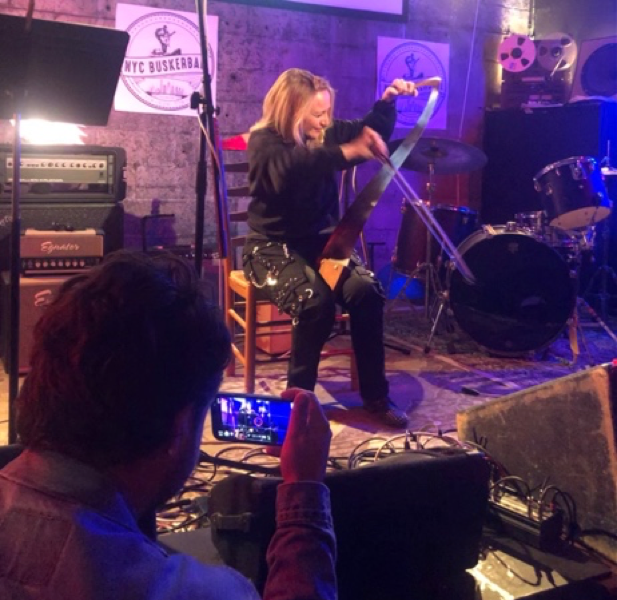 Buskers wield freedom plentifully and playfully. It reinforces their First Amendment right to uniquely express themselves and their creative play with the city's architecture that manipulates their sounds. "Playing on the street, my sound was very thin, like a whistle," said Natalia 'The Saw Lady' Paruz (above). She explained that without the component parts of guitars or violins that amplify their sounds (resonance boxes) — the subway is an acoustic replacement. A station's nooks and crannies, odd angles, and the widening and constricting of tunnels all augment the music of her saw, putting a natural reverb on it. "The body of my sound becomes meatier, deeper, thicker," she said.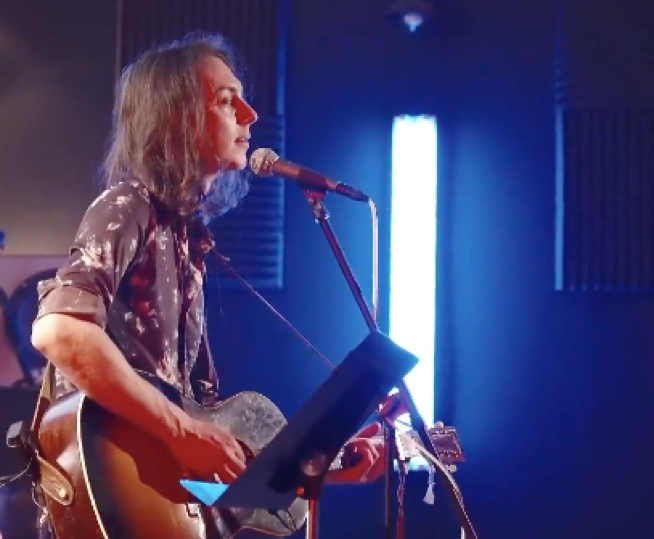 Robert Leslie (above), an indie-folk songwriter from the U.K. living in NYC — has also learned the different offerings of each subway station and adjusts his sets in response to the ways their different features interact with his music. At 14th Street, he's found quicker, more upbeat songs reverberate best off the tiled wall he sings directly into.
A short video played at the beginning of each set introduced each of the night's nine performers to the audience, ending with Eastwind and the artist jointly calling on the audience to "go busk!" The videos shared many tidbits of info on each busker, such as: when Bridges began busking, he performed with a harmonica brace made out of a clothes hanger; how a passer-by once furnished The Saw Lady's performance space with a table, pot and plant; and that Malang Jobarteh — a West African kora player — thinks subway music is important for making people happy; and at age twenty Leslie used busking to fund his travels around Europe.
Many of these artists expressed the value of the direct audience connection busking makes possible, and despite the event's curation, these personal stories preserved this essential aspect of the trade. Bridges said, "Busking creates a shelter for people. When Morgan O'Kane [also featured at the Ball] is playing his banjo, I'll miss five trains. It's like a safety net." Similarly, The Saw Lady says buskers can be an indication the subway is safe because they're there.
"The Ball is meant to bring more awareness to busking and everyone's right to express themselves in a public space. The Ball is meant to show buskers that they're important and that people value them," wrote Eastwind in an email. He hopes to grow the concept of the BuskerBall to become a non-profit that supports and defends buskers' rights. He too hopes an appreciation for buskers will burgeon with the festival's popularity when he'll be able to hand off the heavy load of expenses and responsibility to a community who all believe in the value of their buskers.
If you missed the April Busker's Ball, catch NYC Busker Ball #14 at The Seaport at Pier 17, Monday, July 4 from 3:00pm–8:00pm. Come celebrate Independence Day by celebrating independent performers who uphold the First Amendment—long live Busking and Buskers!